Moroccan Styled Shoot – Featured in Vogue Japan!
30th May 2018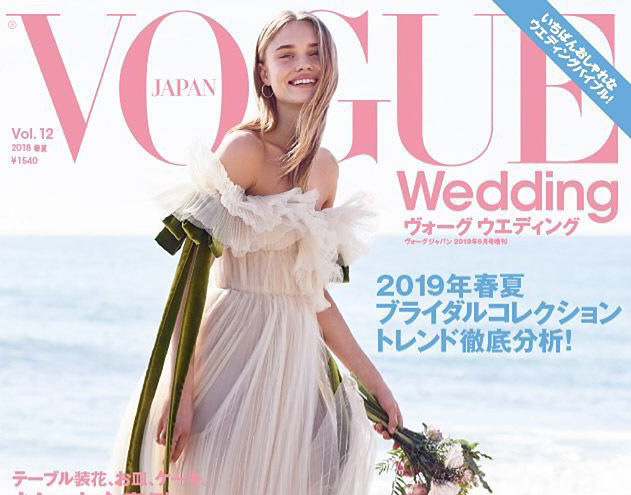 ---
In October last year Charlotte from La-Fete Weddings invited us to be a part of an epic wedding editorial shoot in Morocco. Having worked with Charlotte on several other projects in the past, I knew straight away I wanted to be involved, her creative vision is always on point, so I knew that the results of the styled shoot would be just stunning.
So I was over in the moon when I found out that the shoot, along with our wedding stationery, was to be featured in the pages of Vogue Japan! It literally is a dream come true, Vogue has been my no.1 fashion magazine for as long as I can remember and having worked in fashion design myself, I know how prestigious this feature is.
The brief was elegant boho, queen of the desert with camels. Vintage gold table decor, with a subdued oriental feel. Earthy tones, beiges, terracottas, with electric blue pop.
We provided Invitations, RSVP's, Save the dates and place names on cotton rag hand torn paper, finished off with calligraphy and gold leafing elements. The menus and welcome signs had a subtle earthy watercolour background, again with a calligraphy font.
Charlotte, Roberta (photographer), and the rest of the team in Morocco created the most striking scene and captured it so sensationally, so if your a bride or groom in search of some dreamy Moroccan wedding inspiration, look no further!
Below are some images from the Vogue Japan feature, along with some more imagery provided by Roberta Facchini Photography, with all suppliers being credited at the bottom of this post.
The Team who made it happen
Planner/stylist – www.la-fete.com
Photographer – www.robertafacchini.com
Videographer – www.alessandrobordoni.com
Stationery – www.papergrace.co.uk
Venue – www.lapause-marrakech.com
Female Model www.instagram.com/belwids
Male Model – luismartins.webs.com
Hair & MUA – www.instagram.com/evabeautyart
Ring – www.london-victorian-ring.com
Florist – www.yassab.com
Cake – elizabethscakeemporium.com
Dress – www.katyakatya.co.uk
Dress – www.galialahav.com
Shoes – www.harrietwilde.com
Comb – www.brownsbride.com
Plates & Table Linen & Fabrics www.scenesdelin.com/en/home
Cutlery & Blankets – www.scenesdelin.com/en/home/
Baskets & Hats – www.panier-marocain.com