'Real Queens fix each other's crown
28th July 2018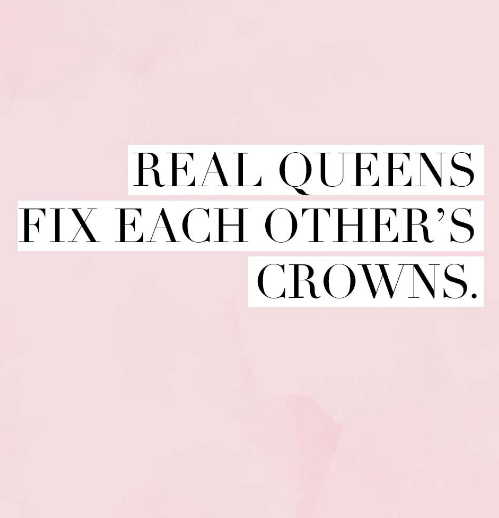 ---
This quote right here is something that I live by.
There's so many women kicking ass with running their own businesses at the moment, so what better way to practice this than by supporting and empowering each other.
Over the next few months I will be interviewing different business women that inspire me, creatively and wholly.
First up is accessories designer Sally from Tilly Thomas Lux who started her business in 2015 and has absolutely smashed the bridal world with her amazing creations, of which you can see on most monthly national wedding magazine front covers, and recently having a full page spread in Paris Vogue. Oh and did I mention that Millie Mackintosh wore one of her designs, when she got married a few weeks ago (which was featured in Hello Magazine!).
I first met Sally at university, where we both studied fashion together and I've watched her grow into the business woman that she is today, I'm so inspired by her passion and drive for everything that she does and the love that she has for each hand made piece and for her brides.
I'm so proud of her and we support each other always, fixing each other crowns like real queens 😉
So handing over to her now…
Hi Sally, firstly, what made you decide to start up your own business?
I had been working in Fashion Jewellery for about 9 years, I was tired of the long commute and constantly felt like I was on a treadmill, as fashion is so throw away. I wanted to make beautiful timeless pieces and had always dreamed of owning my own bridal brand. Over the years I had made pieces for friends and family so it felt like a natural progression. It's an amazing thing creating pieces for the magical day.
It must of been a very hard decision to give up your full time job to pursue TTL, what elements helped you make this decision?
It was very scary thing leaving my job and a salary and starting from scratch again but I felt creatively frustrated and needed a change.
How important is it to you to have support from other women in both your personal life and within the wedding industry?
Oh it's so important to me, I am very lucky to have the support I have from both family and strong women in the industry including yourself Sinead!
Have there been hard times, when you've nearly given it all up?
Oh ABSOLUTELY, being a creative, you always doubts, "am I good enough" "is the product good enough" "will I ever make a living out of this" A very good friend of mine, when I had just quit my job said, don't worry what you are making just follow your heart, trust in what you love. If you love it, so will other people.
You have quickly become a must have label amongst celebrities like Holly Willoughby and Millie Mackintosh, which is credit to your stunning creations and hard work – how do you measure your own success?
I measure my success on the happiness that my pieces bring. The testimonials I receive mean everything and I wouldn't be anything without my wonderful brides.
What 3 tips would you give to someone who wants to start up a business within the wedding industry?
Work hard, love what you do and don't worry if you make mistakes, its all part of the fun!
Thanks so much Sally! If you want to see more of TTL's magical creations you can check out her Instagram and website below.
https://www.instagram.com/tillythomaslux/
https://www.tillythomaslux.com/
Credits:
Bridal hair accessories – Tilly Thomas Lux
Hair – Jo love hair
Photos – Rachel Takes Pictures
Bridal dresses – Kate Halfpenny