Where to even begin? Part 1: Save The Dates
10th September 2018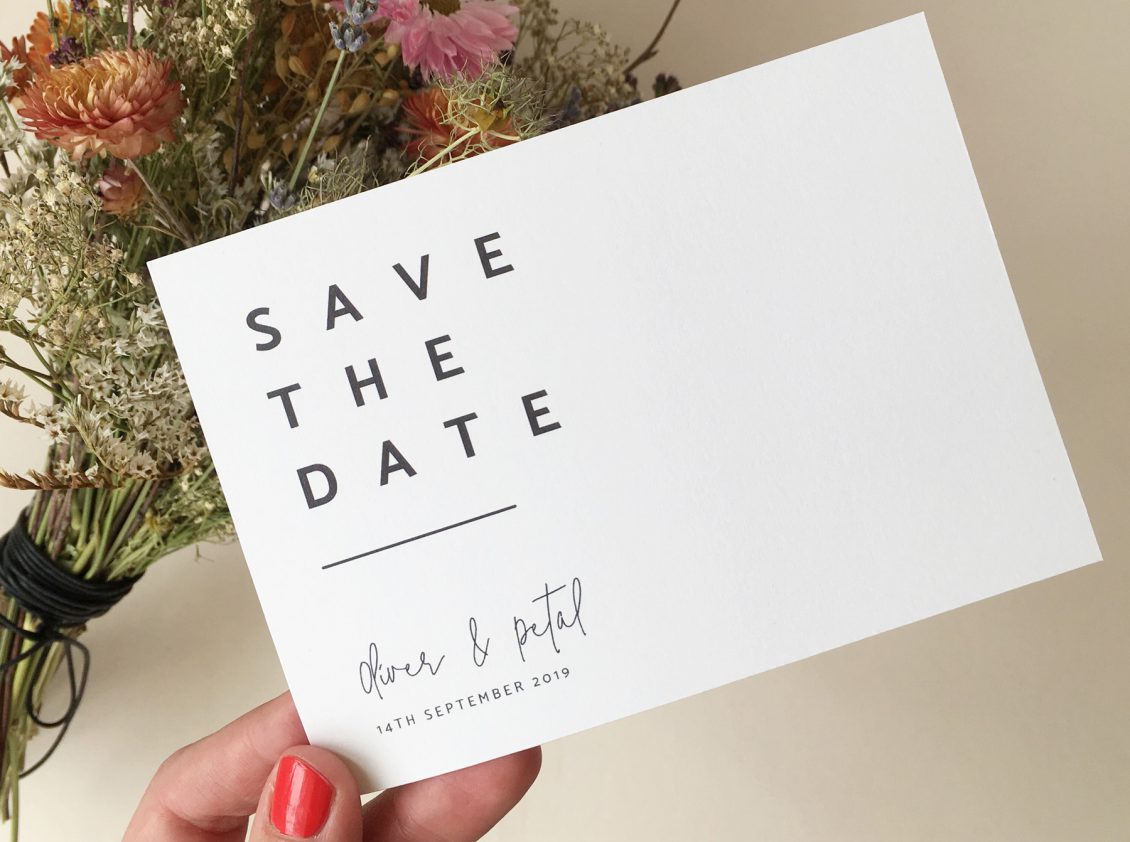 ---
Yay, so you've just got engaged (congratulations by the way) and you are filled with excitement, but it's just beginning to dawn on you that organising your wedding could be a total minefield!
With, more than likely, questions such as "When do I need to send save the dates?", "Who should I invite to the day?" and "What on the day stationery will I need?" swimming around in your head.
First of all don't stress! We are here to help by answering all of these in a series of blog posts and (hopefully) making some of the many tasks on your to-do list a little bit easier!
So where do we start? Well, you've done the most important thing, and secured "The Day" part of your "Big Day" and now you hope everyone can make it. Well of course, you need to let everyone know so that distant family members can make travel arrangements and best friends don't book that trip to Ibiza they've been talking about.
Save the Dates are one of the most common stationery items we receive questions about (and not surprisingly). So here are a few responses to questions received around those all important Save the Dates:-
Do I even need to send save the dates?
Nope you don't, but one of the most important things, after booking your church/venue, is letting your guests know the date of your upcoming nuptials. Unless you don't actually want anyone to attend (and for some this can be the case) we are going to go with the assumption that you want your nearest and dearest there! A Save The Date is a great place to start by getting everyone excited about your big day!
Could I send an email or digital save the date instead of a printed card?
Yes of course, this can be done and we have been known to complete digital stationery for past customers, however, there are few downfalls to sending digital over printed.
One being that your guests may never receive the save the date in the first place, as it may go to their junk mail or they simply may not check that particular email anymore. Secondly your guests may not have email addresses in the first place (I'm thinking grandparents here!).
We all know everyone loves to receive something in the post, so your guests will be made-up with their save the date, and it will most likely take pride of place on their fridge door, so its a constant reminder of the awesome wedding that is to be!
Most importantly the save the date will set the tone for your big day, thus allowing your guests to get a feel for what's to come.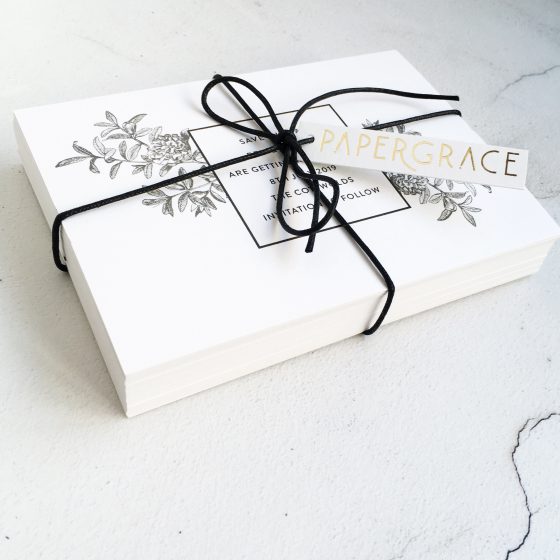 When do I send out my save the dates?
The advice on this is conflicting, with traditionally people sending these out 6 months before their big day, but in my opinion this should be more like from 9 months up to a year. It really is amazing how far people get booked up in advance these days, especially if you are getting married in the summer months (as this is the height of wedding season) so it's best to get those save the dates out early, so as to avoid any disappointment.
Also, your guests will appreciate the heads up so they can book time off work, book hotels, sort child care and save for that new hat!
What about if I'm having a destination wedding?
If you are getting married abroad or somewhere that the majority of your guests will have to travel to, it's a case of; earlier the better in terms of save the dates, as we all know – the cheap flights go quickly! 🙂 So as soon as you book your venue, get those details out!
Who do I send save the dates to? Do I include evening guests?
You will need to send a save the date to everyone that you will be sending an all-day invitation to.
There isn't as much organising involved when you are an evening guest, so I don't think a save the date is a necessity.
The invitation 3 months before the wedding, should be more than fine for them.
What details should I include on the save the dates?
Information, at a bare minimum, should include your names (obviously!) and your wedding date.
Other information that may be a good idea to include, is location, a wedding website and a sentence stating 'invitation to follow'.
If I am going to order save the dates from you, when should I order them?
I always tell my customers to order their save the dates at least 28 days before they hope to send them out, this then leaves enough time for proofing, printing and delivery. Orders are regularly delivered before 28 days but I say this is the maximum lead time. You also have to factor in time for writing out the addresses on your envelopes, as this can take a while if you have a lot of guests!
For bespoke designs lead times are longer and more like 6 weeks, and to bear in mind the busiest periods are January to August, so make sure you get in touch with plenty of time if you are hoping for bespoke.
I hope this blog post helps answer some of your save the date questions and look out for the next in the series. But as I always tell my customers, if you have any further questions at all, please don't hesitate to get in touch at hello@papergrace.co.uk