How to politely ask for money as a wedding gift
27th September 2022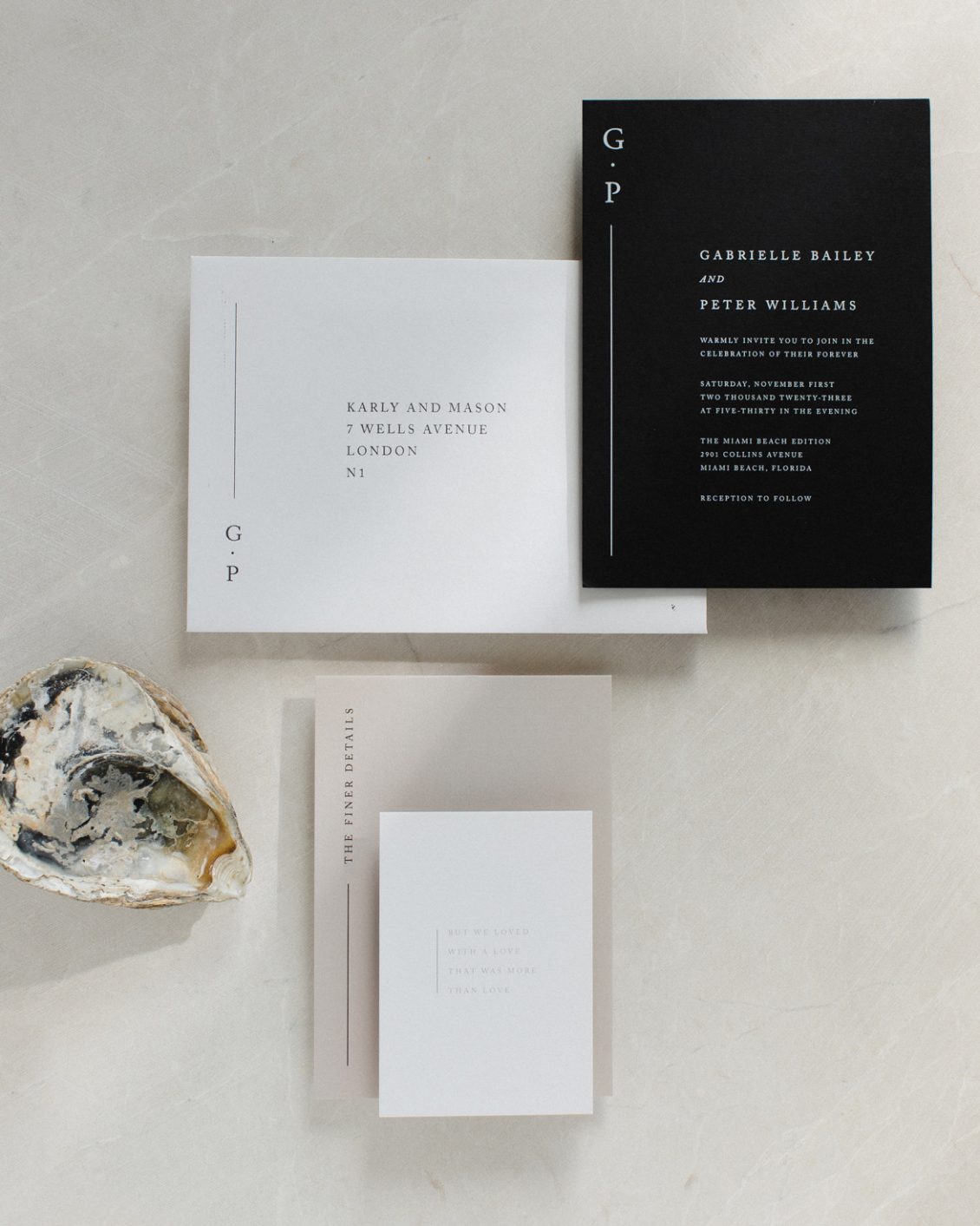 ---
Traditionally wedding gifts were to help you set up home as you move in together to start your married life.
Those days have long passed and it is now perfectly ok and quite the norm to ask your guests for money, be it by using a cash registry website, a honeymoon fund, or a simple line or poem on your details card.
There are many ways to ask for money as a wedding gift, but being specific about how you plan to use the cash, whether that be for your honeymoon, house deposit or home improvements, will make it more personal and make your guests (especially your older family members) feel more comfortable with these requests. We mostly advise that these requests are included in a small section on your wedding details cards or on your wedding website, if you are thinking of having one.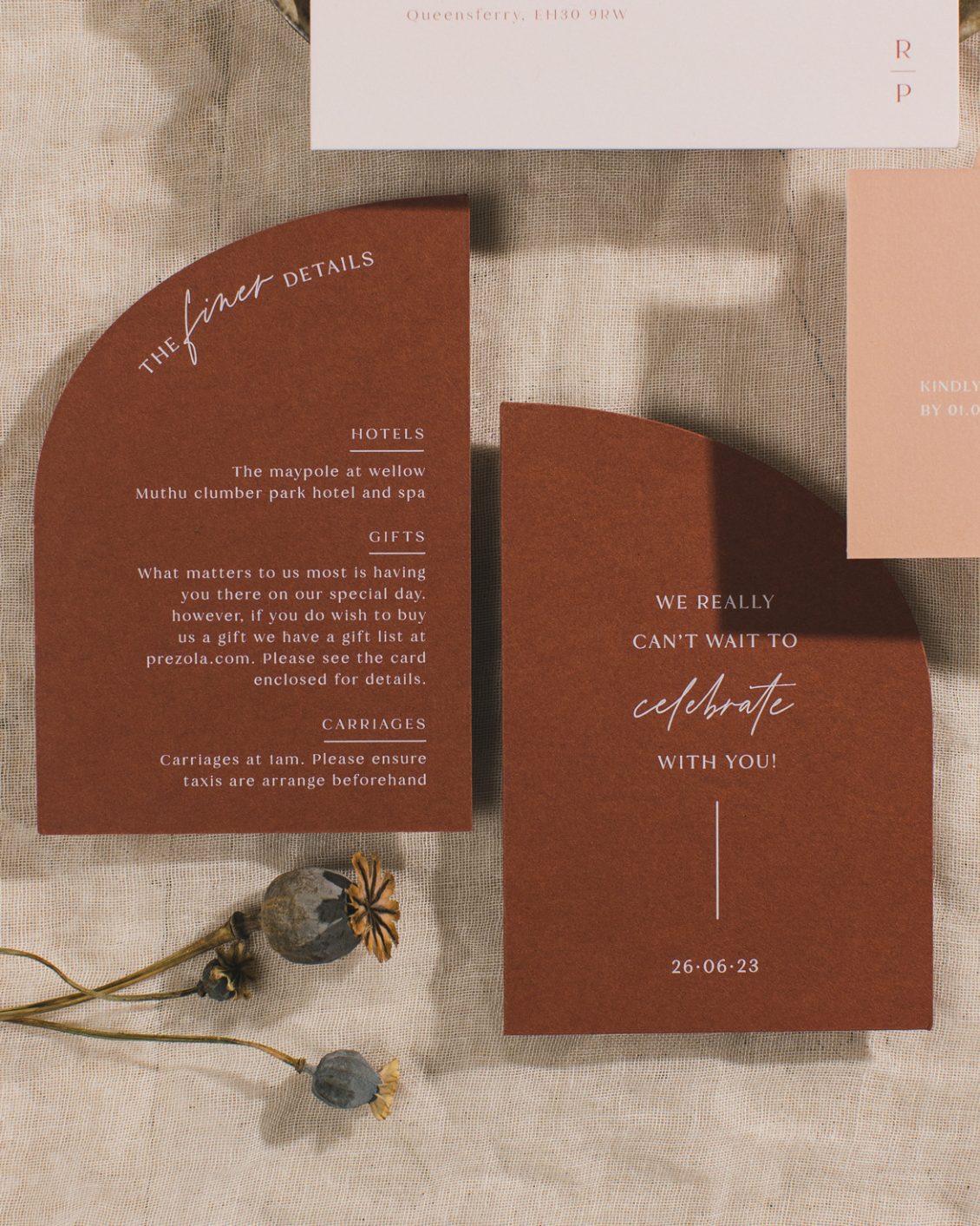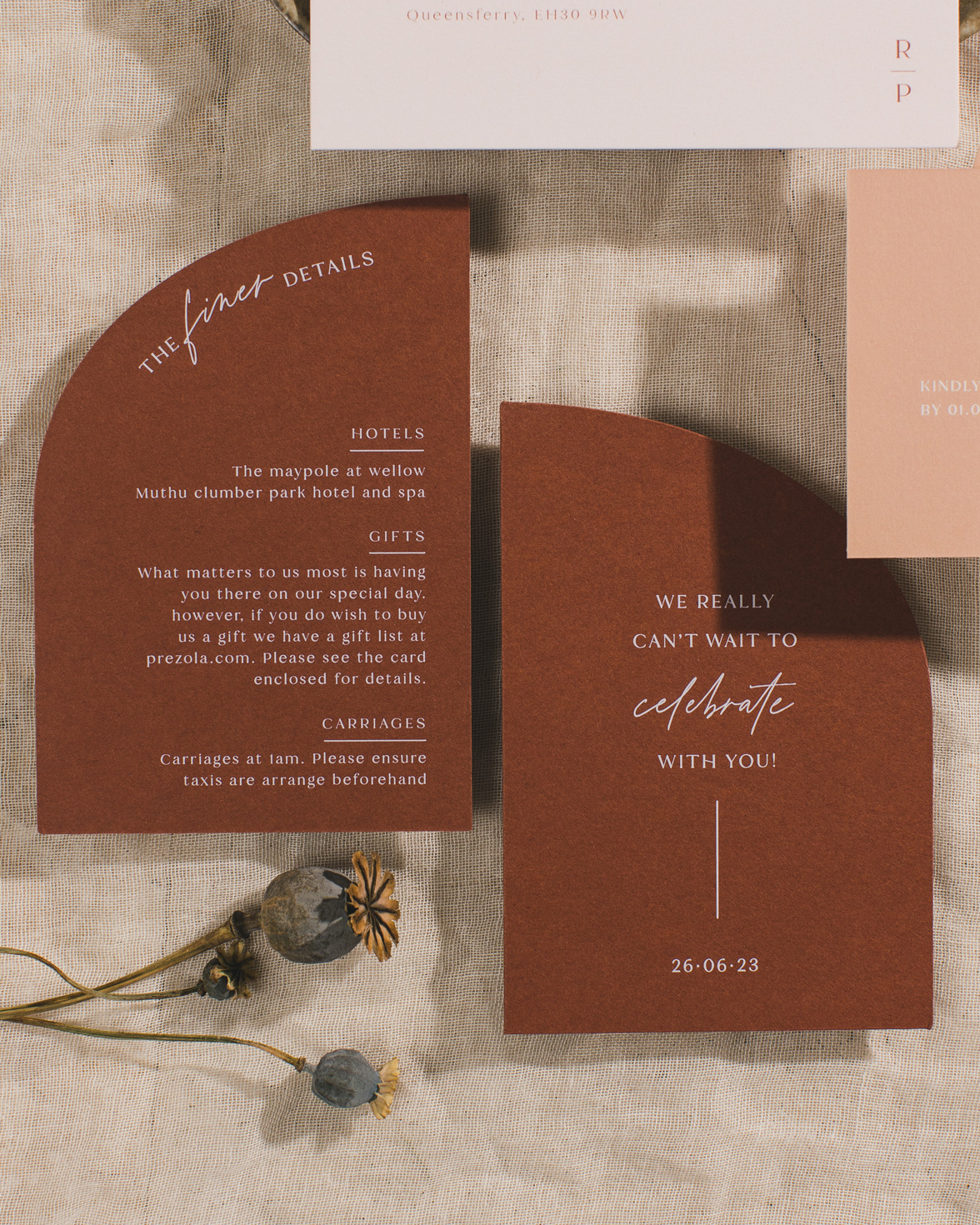 Boho Summer collection details card (with gift info)
Our top 5 ways to 'politely' request money as a wedding gift
"Your presence at our wedding is enough of a gift, but should you wish to buy us something, we'd greatly appreciate a contribution towards our dream honeymoon/house deposit/renovation."

"Please do not feel obliged to buy us a gift, all that we are expecting is you. If you would like to give something, a contribution towards our honeymoon would be greatly appreciated."

"If you were thinking of giving a gift to help us on our way, a gift of cash towards our honeymoon would really make our day,  however if you would prefer a gift please feel free, to surprise us in your own special way."

"The best gift is having you share in our special day, Should you wish to contribute in some other way, We would love a few pennies to put in our pot, For our honeymoon trip after tying the knot."

"The most important thing to us is that you are able to celebrate with us on our wedding day. However, if you wish to give a gift, we will gratefully accept a small contribution towards our honeymoon."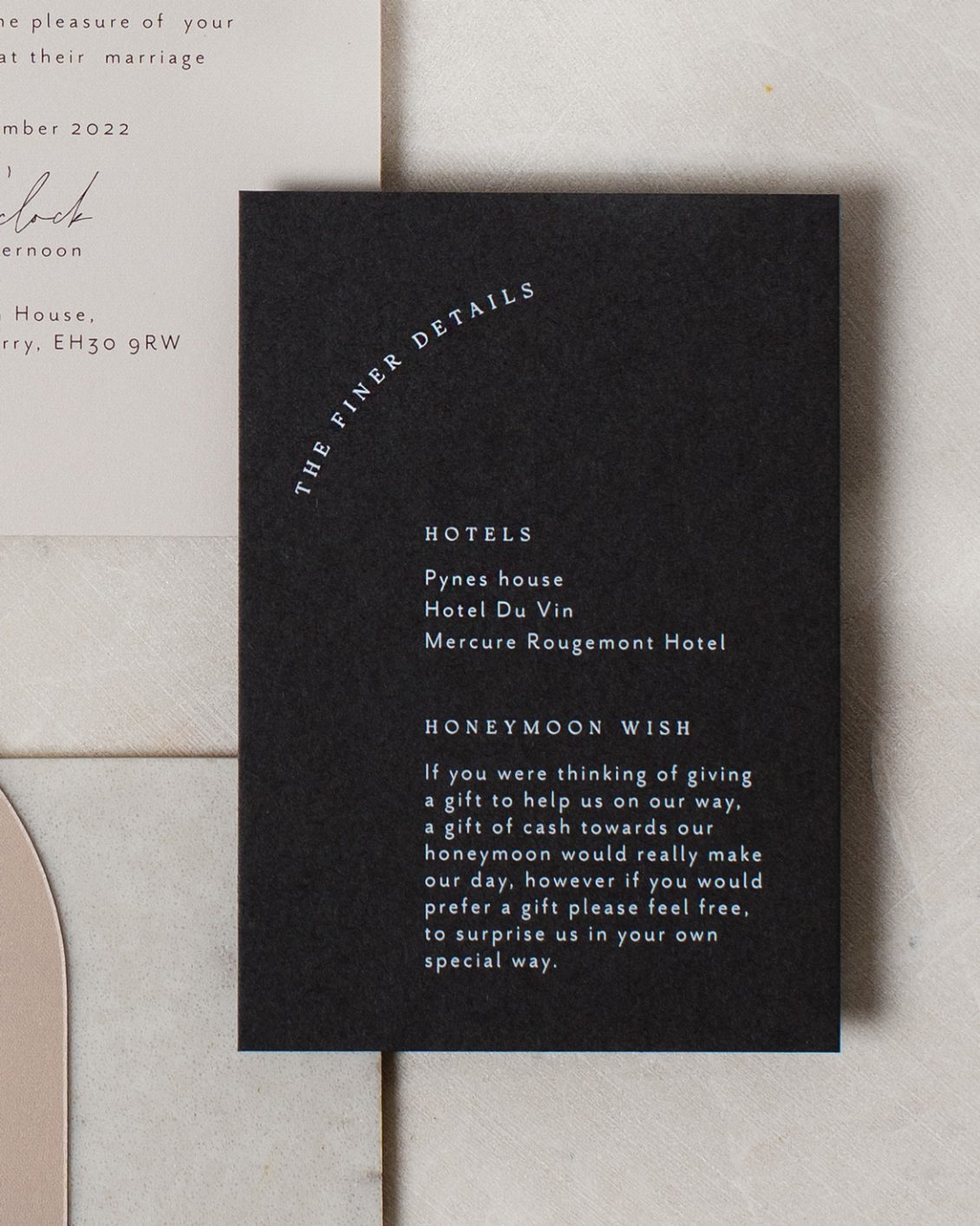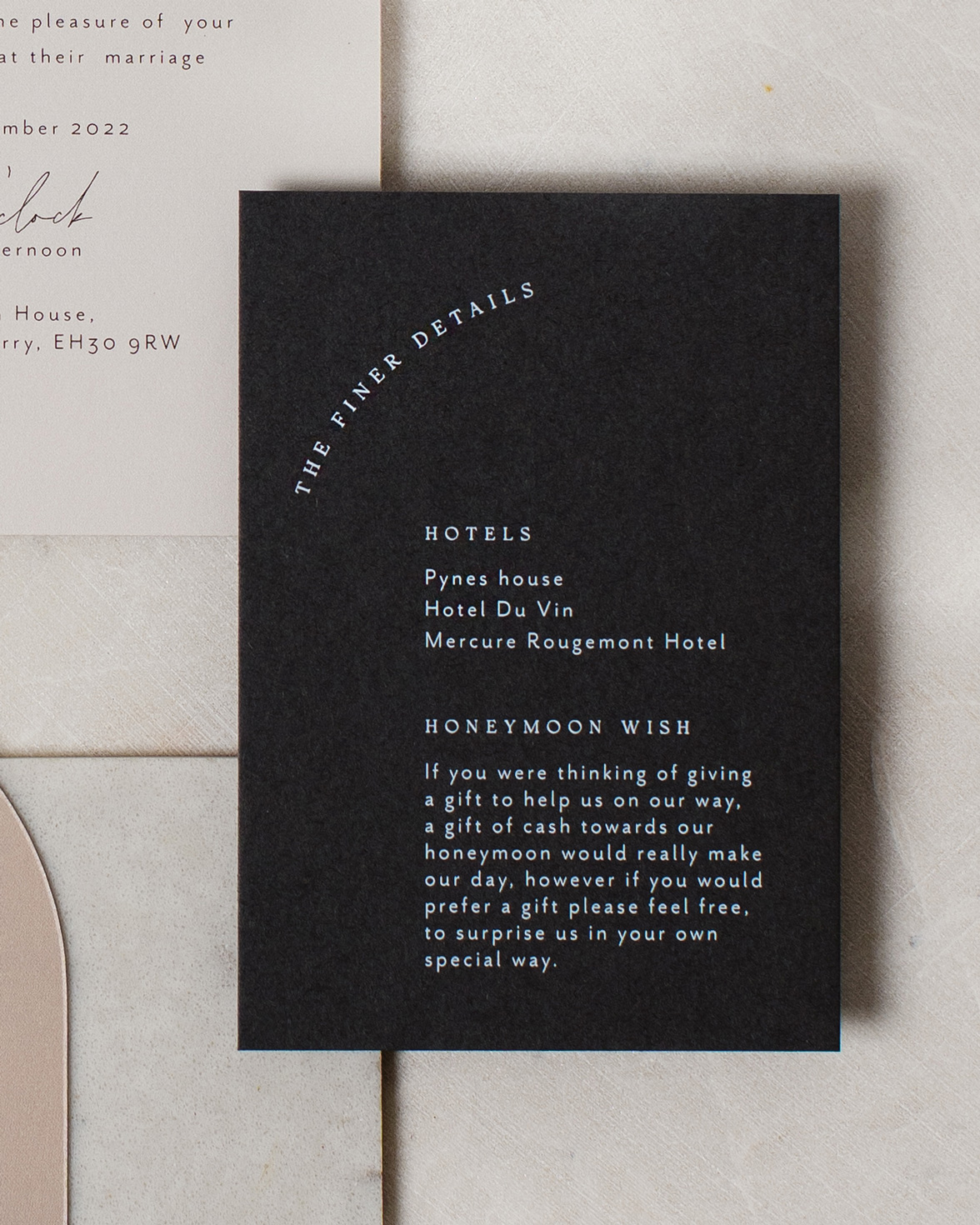 Arched Mocha collection details card (with gift info)
A Gift registry website is the best of both worlds.
The great thing about using a gift registry site is that you can have the best of both worlds.
Whether you want to help fund the perfect honeymoon or go on your next adventure, upgrade your kitchen or create the home of your dreams, a gift registry website allows you to combine all the things you really want on a single list.
This is also a great choice for those who are nervous about asking the older family members for cash only.
Our favourite wedding gift registry site is Prezola.com where not only do they have an array of beautiful homewares to choose from, you can request cash gifts and make a cash contributions towards honeymoons.
You can also read more about my catch up with Prezola and how it works.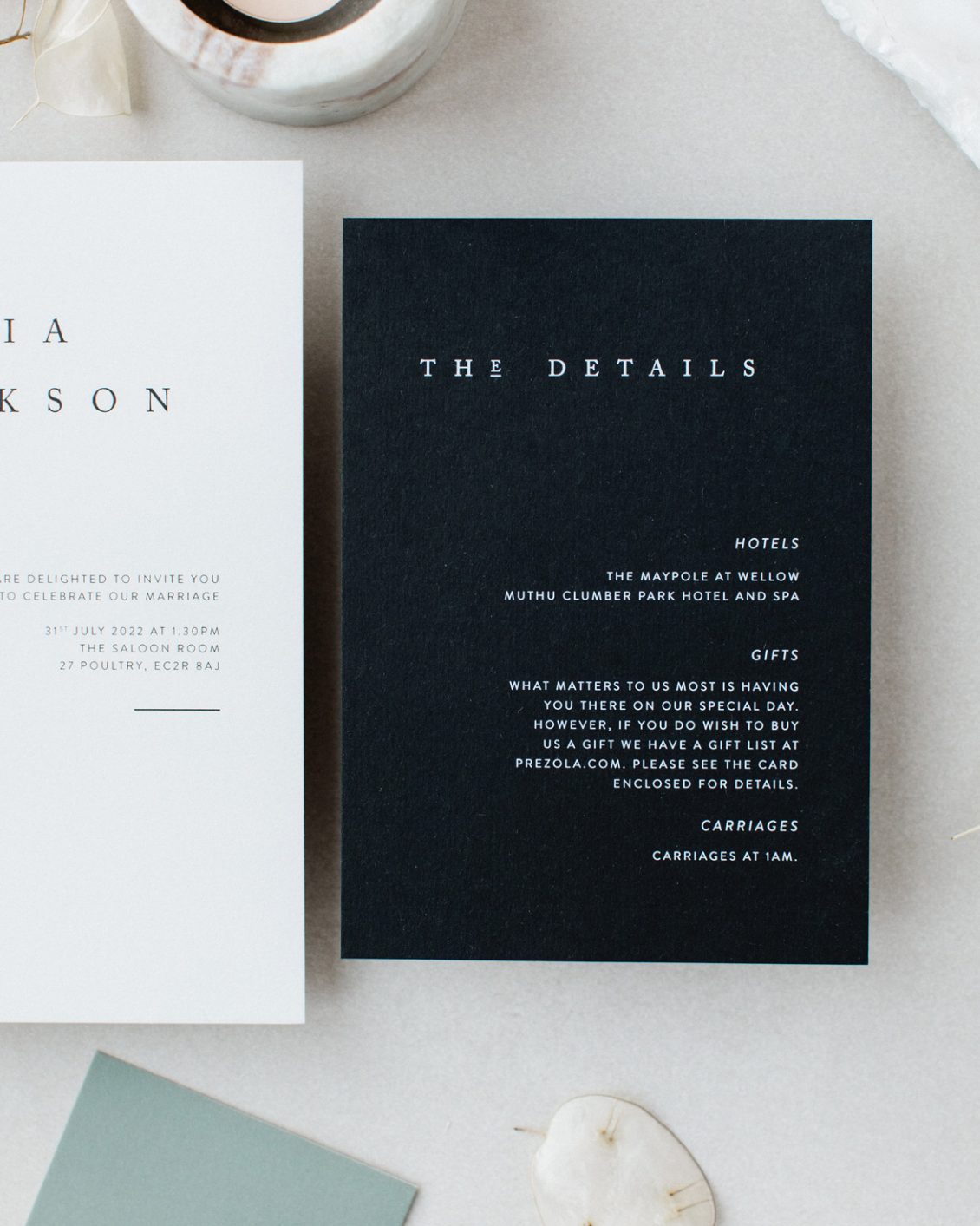 Elegant Type collection details card (with gift info)
When it comes to asking for money as a wedding gift, whichever option you choose, rest assured that it really has become acceptable.
Your friends and family especially will truly want to give you a gift that puts you in good stead for your new married life together.