5 minutes with Concrete Candy
31st October 2018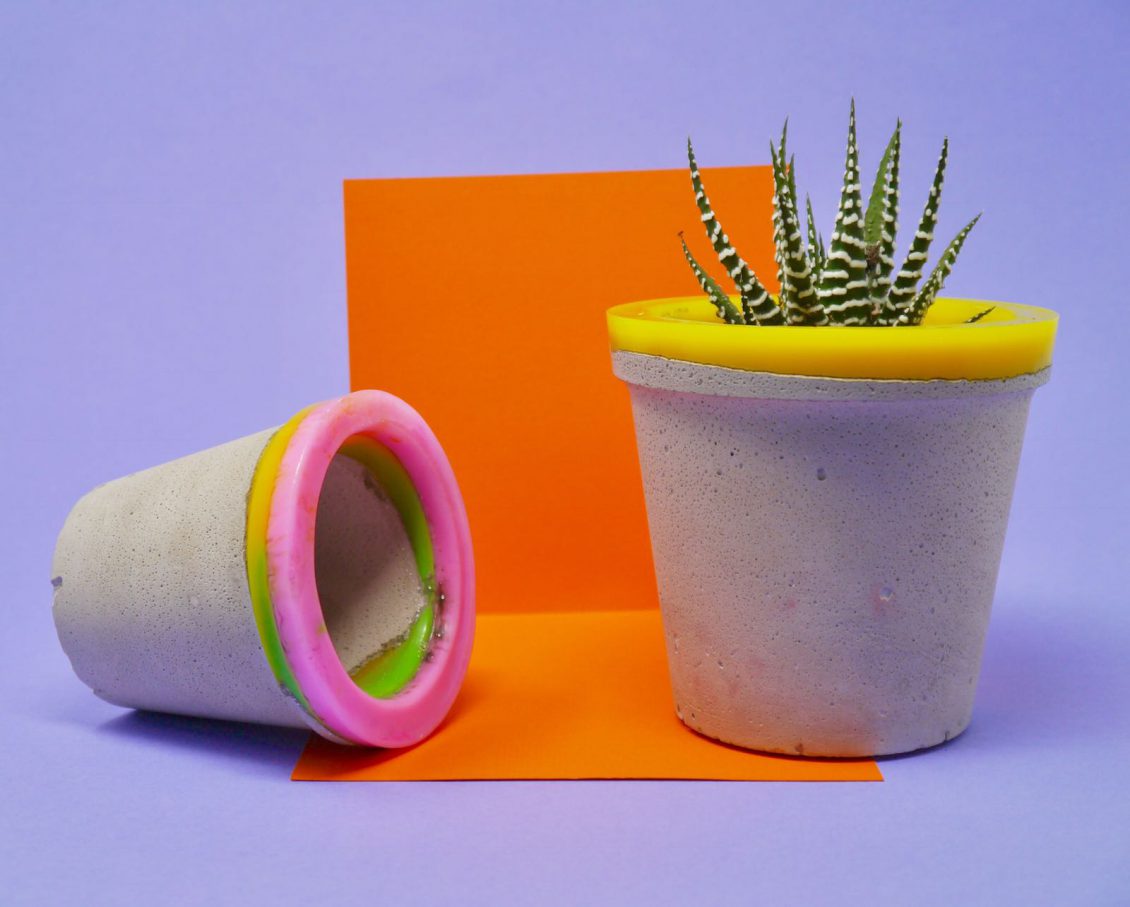 ---
Yes it's time again where I get the wonderful job of interviewing an amazing, inspiring woman who has taken the plunge to become a girl boss.
This time it's Artist Sarah, who is not only a busy mum of 2, but also started her own business selling concrete pots 10 months ago, when her youngest daughter was less than a year old.
Sarah's bright, fun and vibrant pots were an instant hit and caught the attention of some huge brands and independent shops and more recently exhibiting an installation at WA green shoreditch for the design festival week 2018.
All of which is a massive achievement in such a short space of time.
Her pots are also hugely popular for wedding favours and decor, so bride and grooms read on to find out about Sarah's journey and where you can get hold of some concrete candy for your own wedding!
Hi Sarah, firstly, what made you decide to start up your own business?
I started the idea of making concrete pots when thinking about ideas for our wedding favours. My husband and I fell for one another over a crowded sticky dance floor at a bar whilst at uni studying Art. Several years later and engaged we went to visit the Henry Moore Foundation. This place is magical and we particularly loved Moore's two green houses filled with Cacti and succulents in simple pots which became the inspiration for the wedding favours.
After the wedding we kept getting lovely comments about the pots. I then had a moment of creative madness once our second child was born to revisit materials and ideas I'd had whilst studying for my degree and tested combing resin with the concrete for pots which proved a success and there Concrete Candy arrived.
What's the main source of inspiration behind your designs?
I take much inspiration from my travels, visits to other countries, cities, art exhibitions/ galleries and stately homes. I'm also interested in what's going on in interiors and fashion so like to look at new ideas for material or colours. Colour is essential to me and plays a powerful part in bringing back memories etc so I look to my memories of childhood also.
How are your pots usually used and styled for weddings?
My pots are styled in a multitude of ways. I've made soft peachy and green Terrazzo pots with gold leaf for a fresh and contemporary wedding as larger table decorations filled with green foliage. The smaller pots are great as favours with a small succulent pot inside. The great thing is that Concrete Candy pots can be made bespoke to fit in with whatever theme or colours that work with the special day or event. I love working with clients to create something personal for them.
Since launching your business has social media helped your brand get noticed?
Without Instagram I'm not sure how successful the brand would be. It has played a massive part in my success so far and feel so chuffed to be a part of the makers movement that we see happening and social media has boosted the love of all things unique and handmade.
What's been the most challenging part, running your own business?
Having a young family of two and trying to keep on top of a new business making pots and other creations is
a bonkers juggling act. There's certainly moments where I feel like I'm struggling on both counts as to give 100% to both at the same time is an impossible task but I have a supportive husband and although no family very close by our parents do really try to help out whenever they can. Also a big shout out to the other business folks I've met on this rollercoaster. There's a great support system of mums that also run small businesses as well as a great local community who are incredibly supportive.
Where can bride and grooms get their hands on some Concrete Candy? Do you offer bespoke orders?
There's several independent retailers who are stockists now and they are listed on my Instagram page. I also have a website where you can purchase Concrete Candy. If you are wanting a quote for something more bespoke such as pots or other products for your wedding then email me what you are after at hello@concretecandy.co.uk and I'll do my best to help realise your ideas for your big day.
Thanks so much Sarah! If you want to see more of concrete candy's bright and wonderful creations you can check out their Instagram and website below.
https://www.instagram.com/concrete__candy/
https://www.concretecandy.co.uk/